The Tier 2 visa is a UK work visa category that allows foreign nationals to work in the UK for a UK based company (Sponsor). The sponsor will always need to have a UK Tier 2 sponsor licence before they can sponsor a non-EEA national to work for them in their UK based company. Contact our Tier 2 visa lawyers if you need help in applying for your Tier 2 visa application.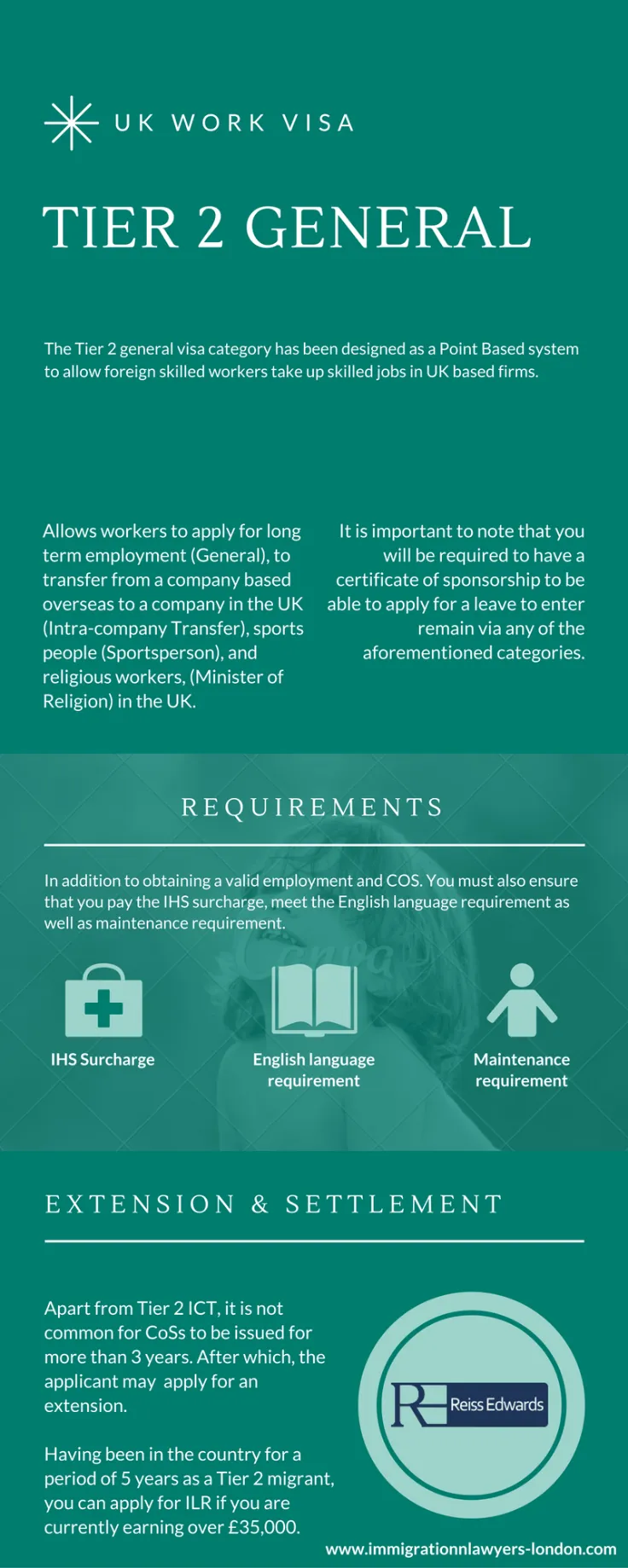 Tier 2 Visa Infographics Summary
The Tier 2 visa category is designed as a Point-based system to allow foreign skilled workers to take up skilled jobs in UK based firms. The Tier 2 visa is particularly appropriate where you have been offered a skilled role in a UK based company who has a sponsor licence.
Importantly a Tier 2 visa migrant is also able to switch employers within the UK only on the basis that they make another Tier 2 employer switching application. A switching application, where changing employers may be treated as a fresh application whether or not the SoC code is the same.
As implied above, your new employer will be required to make an application for a new Certification of Sponsorship.
Requirements
In addition to obtaining valid employment and Certificate of Sponsorship (CoS), you must also ensure that you pay the IHS surcharge, meet the English language requirement as well as maintenance requirement.
Extension Application
Tier 2 visa extension applications will normally be granted for up to 2 to 3 years. Rarely does it exceed 3 years; apart from when applying for the Tier 1 Intra Company Transfer visa? After the initial grant of leave, you will normally be eligible for an extension for up to 2 years.
Indefinite Leave to remain
After spending 5 years in the UK as a Tier 2 General migrant, you may be eligible for indefinite leave to remain provided you are earning over £35,000 as at the time of your ILR application. In addition, your employer must be willing to write a letter stating that you continue to be needed on the job that you are currently in.
How We Can Help
Contact our experienced immigration solicitors today if you will require expert advice. We offer a free initial consultation over the phone. Call us on 02037442797 or drop us a message on info@reissedwards.co.uk