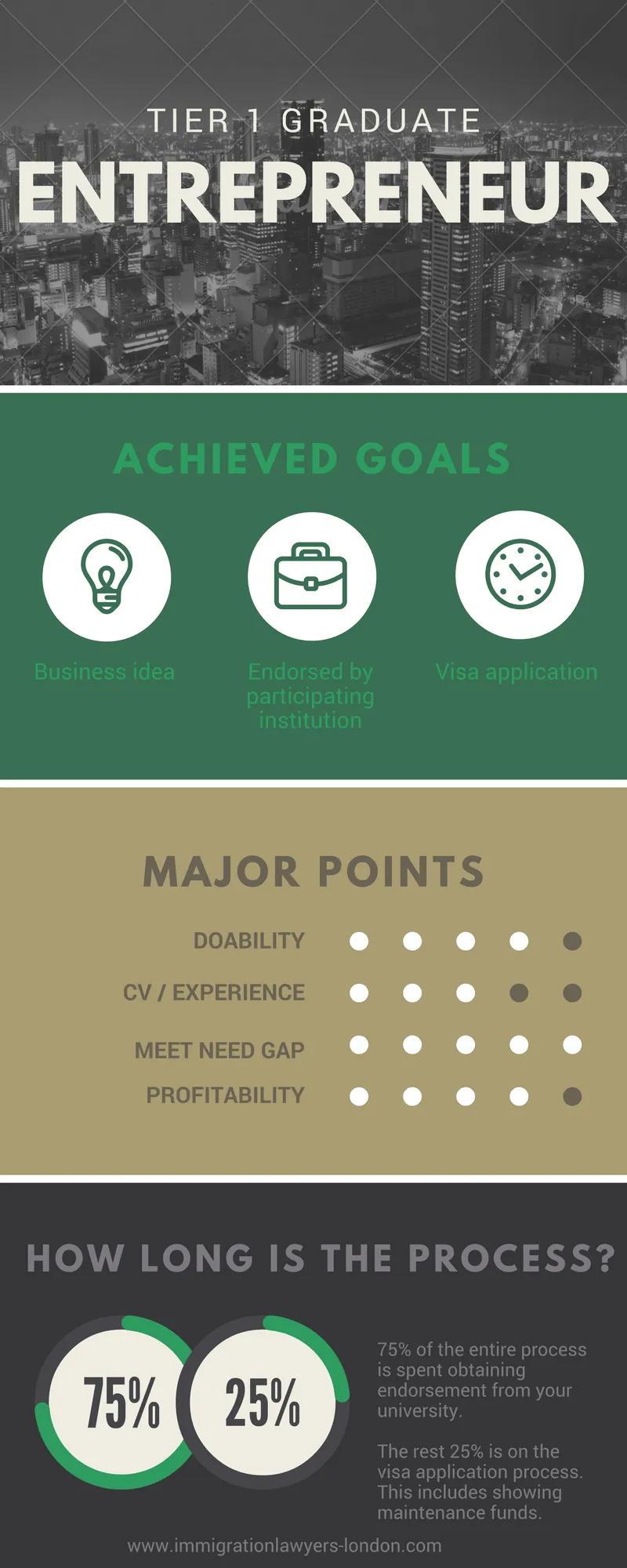 Doability
This refers to the credibility or the viability of the application. In order words, the idea cannot be a 'trying to save the world by building a space ship to take the world to mars'. The business idea must match your experience and/or education background. In simple terms, the business must be such ththe applicant has the appropriate skill set to undertake that busine


Need Gap
As mentioned your business idea must be such that it fills a need gap in the UK rather than merely be in direct completion with other UK businesses.
Profitability
Please note that the business must have the potential of generating profits. A business by definition is an organization set up to make a profit. As such if you are staying in the UK to grow a business idea, that business must be capable of generating profits.
In order to be able to apply to remain in the UK as a Tier 1 Graduate Entrepreneur, the steps include: -
Completed your course of study in the UK
Endorsed by the university as having a good business idea
Visa application.
Key points
Doability - We gave this a 4/5. It is very important that the business idea is a doable one. You can't come up with an idea of flying to the sun having no concrete evidence that it is possible and that it is something that your skill set suggests that you can do undertake that kind of business.
CV/Experience - It is also important that you have experience whether professional or educational in the business you are looking to apply in.
Meet Need Gap - We gave this a 5/5. This is because it is a key point of the Tier 1 Graduate entrepreneur application. The application should demonstrate how the business idea will add real value to the UK - not value in terms of tax as some lazy entrepreneurs suggest - and meets a genuine need gap.
How long is the process?
75% of the entire process is spent obtaining endorsement from your university. The rest 25% is on the visa application process. This includes showing maintenance funds.
How we can help
Our immigration advisers have helped a good number of clients make the Tier 1 Graduate Entrepreneur visa. Note that the Tier 1 Graduate Entrepreneur visa has a maximum leave period of 2 years. You will have to then apply for a Tier 1 Entrepreneur visa; showing access to only £50,000. Our immigration lawyers can also help with that. We even offer a full package that covers both the Tier 1 Graduate Entrepreneur visa and the Tier 1 Entrepreneur visa. Contact us today for a free consultation on 02037442797