We have contacts with businesses within the UK who are looking for investment; should you be looking to invest in an already existing UK business, we can assist with matching you with some vibrant start-ups with potential of success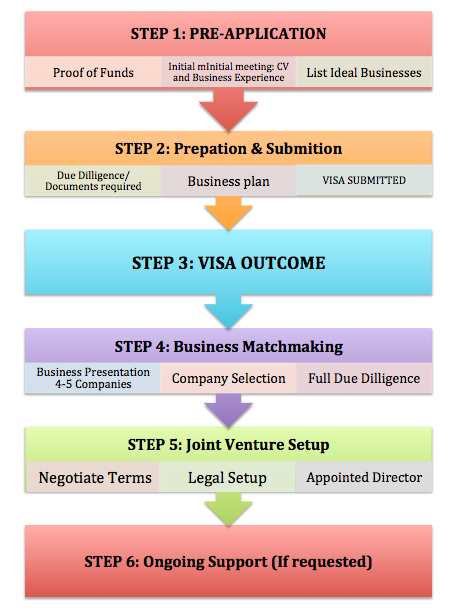 What do the infographics say?
Business Match making
Step 1: Pre-application
Proof of funds
Initial meeting. Cross-checking CV and Business Experience
List Ideal Business
Step 2: Preparation and Submission
Due Diligence/ Documents required
Business plan
Visa Submitted
Step 3: Visa Outcome
Step 4: Business Match making
Business Presentation 4-5 Companies
Company Selection
Full Due Diligence
Step 5: Joint Venture Setup
Negotiate terms
Legal setup
Appointed Director
Step 6: Ongoing support (if requested)
Summary
Pre-application
Before we begin the process, we would normally try to double-check that your access to the funds is compliant with what the Home Office wants. We will also access your CV as well as professional and educational experience to be sure that there is a genuine fit with our current portfolio. We will parse this against a list of ideal businesses. Once we are satisfied with all these, we will proceed to the next stage, which is the preparation and submission of your application.
Preparation and Submission
At this stage, we will be looking at completing due diligence documents as well as putting together a decent and compliant business plan. Importantly, the business plan must satisfy genuine entrepreneur requirements. The business plan should also demonstrate that your business aims to generate at least two full time employment (for two settled workers). At this stage, we will also be preparing the Tier 1 entrepreneur visa. We would normally give you a list of documents to give us. Our business immigration solicitors will then go through every single piece of document you have provided to make sure that your application is robust enough to increase your chances of success to at least 95%. Once we are both happy with what we have done, we will proceed to submit the application.
Visa outcome
The outcome at this stage maybe either positive or negative. If the application comes back refused, we will advise on the next steps. We however have a 95% success rate.
Match-making
Having been granted a visa. A full due diligence will then be carried out. Once we are happy, a joint venture setup process will commence.