The Tier 2 visa is a UK work visa category that allows foreign nationals to work in the UK for a UK based company (Sponsor). The sponsor will always need to have a UK Tier 2 sponsor licence before they can sponsor a non-EEA national to work for them in their UK based company. Contact our Tier 2 visa lawyers if you need help in applying for you Tier 2 visa application.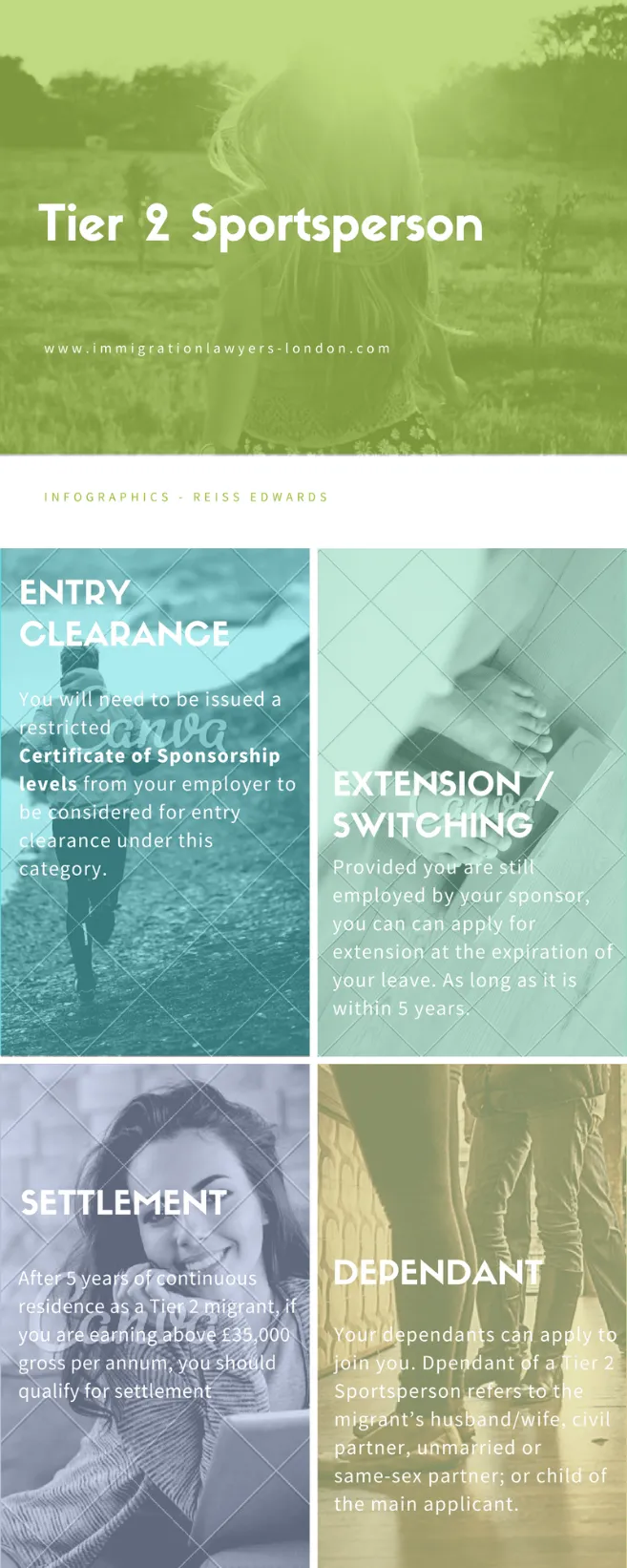 Tier 2 Sportsperson Infographics Text
Entry Clearance
You will need to be issued a restricted Certificate of Sponsorship from your employer to be considered for entry clearance under this category.
Extension / Switching
Provided you are still employed by your sponsor, you can apply for extension at the expiration of your leave; as long as it is within 5 years.
Settlement
After 5 years of continuous residence as a Tier 2 migrant, if you are earning above £35,000 gross per annum, you may qualify to settle in UK.
Dependant
Your dependants can apply to join you. Dependant of a Tier 2 Sportsperson refer to the migrant's husband / wife, civil partner, unmarried or same-sex partner; or child of the main applicant.
More On Tier 2 Sportsperson
The Tier 2 Sportsperson visa category was designed for persons who are top sportsperson in their sports field. Importantly applicants under this route must have worldwide recognition, making significant contribution at the top level they are in.
In order to be eligible to make a successful application under this route, the following must apply: -
Worldwide recognition at top level
The individual will be making significant contribution to the growth of sports in the UK at a high level
There is a provable evidence that applicant will be living in the UK for the period of their leave.
The position in question cannot be filled by a person who is currently present and settled in the UK.
Our immigration advisers are trained lawyers and solicitors with top expertise in assisting our clients with their visa applications. Feel free to contact us today for assistance.
It is also important to add that dependants are able to apply under this route. Your dependant may be your spouse or child under the age of 18.
Your Tier 2 Sportsperson visa will normally be granted for up to 3 years after which you can apply to extend your leave to remain. After spending 5 years in the UK under the route, you may be eligible for indefinite leave to remain.
How We Can Help
For more information regarding the Tier 2 sportsperson infographics, get in touch with us. Our immigration solicitors will be more than happy to offer the advice for the best possible outcome as well as take you through your application process.