The Representative of an overseas business immigration route is designed for when businesses look to move into the UK to set up a branch or subsidiary. See our infographics below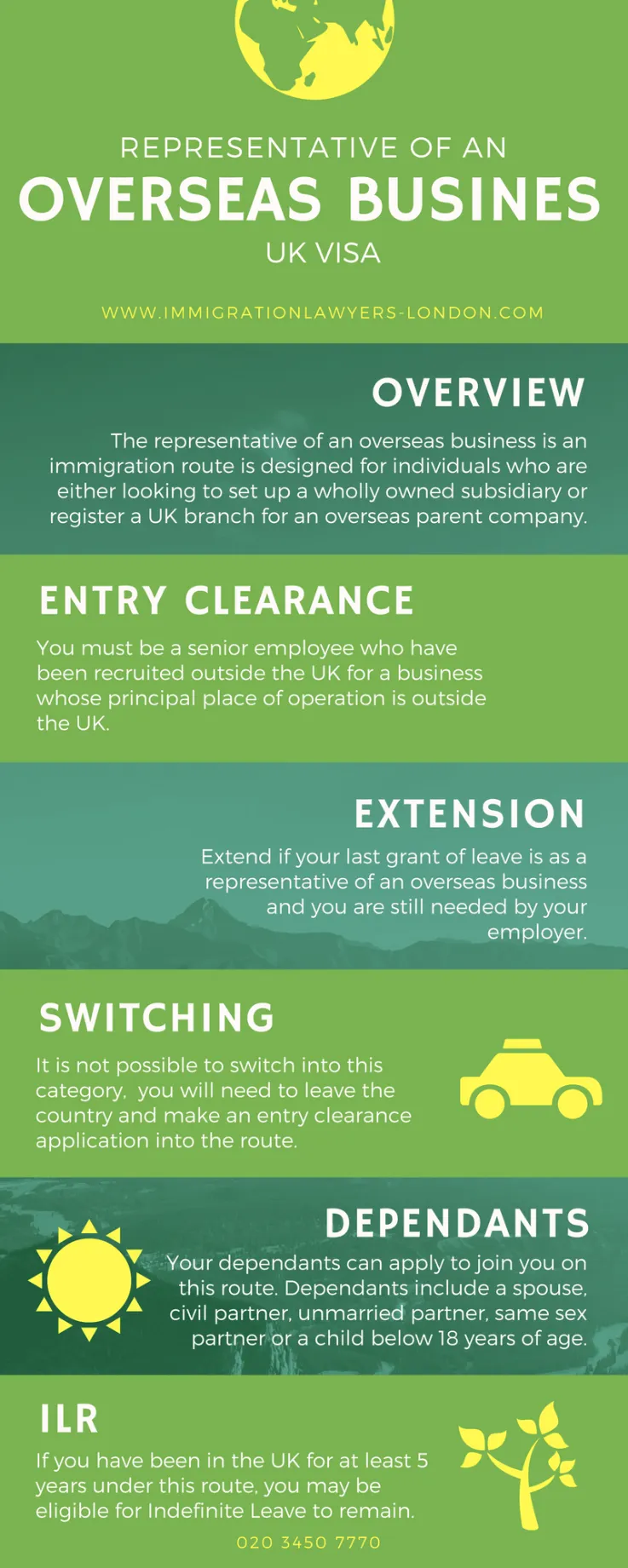 Infographics Text
Overview
The representative of an overseas business, formerly called the Sole Rep visa, allows applicants who are looking to set up a wholly owned subsidiary or register a branch of an overseas based parent company in the UK. This means that is the overseas business must remain the headquarters of the business and the UK cite remains a branch.
This visa route was designed for multinationals looking to establish a branch in the country.
Entry Clearance
You must be a senior employee who have been recruited outside the UK for a business whose principal place of operation is outside the UK. This can be evidenced by official documents like employment contracts.
Extension
If your current leave to remain is as a Representative of an overseas business, having remained on that visa for 3 years, you are able to apply to extend your leave. Importantly, your application must show that you are still needed by your employer for the role you currently occupy for the company in the UK branch.
Switching
It is not possible to switch into this category, you will need to leave the country to make an entry clearance applicant in the route you are looking to switch into. If for example, you are currently on a Representative of an overseas business visa and have just got married to a British national. You may then be looking to switch into the spouse visa route. You will not be able to switch into the spouse visa route.
Dependants
Your dependants can apply to join you on this route. Dependants include a spouse, civil partner, unmarried partner, same sex partner or a child below 18 years of age. For more information in dependant visas.
Indefinite Leave To Remain (ILR)
If you have been in the UK for at least 5 years under this route, you may be eligible for Indefinite Leave to remain. Our immigration solicitors are highly trained and experienced in dealing with Representative of overseas business visas - be it entry clearance, Switching